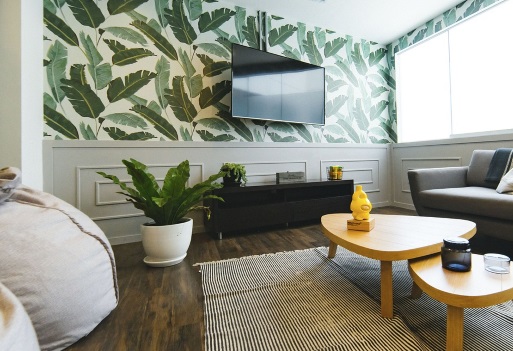 A new year is always a fresh start and it's when many of us begin planning big things for the seasons ahead.
Clearing away the festive decorations and sorting out clutter is a great inspiration to spruce up your home and get it looking just how you want it.
And to give you some extra design ideas to get your creative juices flowing, here's a taster of what are predicted to be some of the top interior décor trends for 2018.
Hello opulence
You'll be pleased to know the luxurious look is expected be big in the year ahead.  Think warm, tactile fabrics such as quilting, velvets and faux fur to bring warmth and comfort to your home.
Bold, luxe colours like deep reds and rich blues and purples are key, accessorised by rose gold, chrome or gold tone ornaments, candle holders and clocks.
Rich warmth is finding favour over previous minimalist styles, so it might be times to get your heirlooms out of the attic or head over to your local second hand shop for some over the top frames and accessories.
Go bold or go home
Colour is no longer just for accessories or a feature wall – it's time to make colour a big deal in your living space.
Clashing brights and neon shades are what it's all about.  And if you can combine blocks of colours together to make an eye-popping, wow-factor room, all the better!
If you're feeling brave, introduce patterns too.  Done right, clashing patterns create a stunning focal point, but limit it to two or three so as not to give yourself a headache.
Tropical treasures
The trend for nature-inspired prints, ornaments, colours and accessories is still going strong in 2018. 
Bring the outdoors indoors with leaf and plant-print wallpaper, jungle or cacti-themed lamps or decorative items, and statement plants to breathe life into your home.
If you aren't green fingered, green hues in your furniture, paint or curtains will give a natural feel, and a bunch of fresh flowers in an attractive vase will create an ideal shot of colour and beauty.
Animal prints make a great accent to this look, but be careful not to create a room which looks too theatrical or themed.
We'd love to see some photos of your new look living rooms!  Share them with us on our Facebook page.