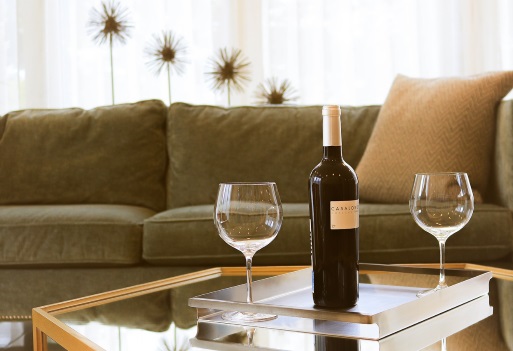 You don't need to reach for something French or Italian if you're looking for a refreshing glass of wine this summer.
There are plenty of vineyards much closer to home producing drinks so delicious you'll be counting down the minutes until it is wine o'clock. English Wine Week  runs from May 26 to June 3 so La-Z-Boy has put together a list of tipples to try as you sit back and relax in your favourite armchair.
Chapel Down Kit's Coty Bacchus 
Produced from a single vineyard in the North Downs of Kent, this white wine is created from Bacchus grapes using traditional methods including wild yeast fermentation and extended ageing in oak barrels. The secret to the brand's success lies in the area's chalk soil and cool climate as well as the company's attention to detail. If you drink Chapel Down, you will be in prestigious company as the producer supplied the wine for the Duke and Duchess of Cambridge's wedding as well as No 10 Downing Street, Ascot racecourse and the Oxford and Cambridge boat race.
Nyetimber Sparkling Classic Cuvee
The Nyetimber estate in West Sussex is so old it was listed in the Domesday Book in 1086 when it was perhaps a small timber plantation. Fast forward 900 years and the first vines were planted on the site and the Nyetimber brand was born. The combination of chalk soil and favourable climate allows Nyetimber to produce popular sparkling wines using only its own grapes. This homegrown bubbly gives Champagne and Prosecco a run for their money. The classic cuvee is pale gold in colour and honey, almond, pastry and baked apple flavours.
Pebblebed Sparkling Rose
This award-winning Devon wine producer comes from humble beginnings. Starting out as a community project near Exeter back in 1999, Pebblebed caught the attention of the public in 2010 when it featured on BBC's Dragon's Den and won the support of Duncan Bannatyne. The wine brand is still true to its community roots with hundreds of volunteers from the local area helping with the harvesting each year. The sparkling rose is a blend of Seyval Blanc and Rondo with an attractive salmon pink colour.
Wroxeter Roman Vineyards Madeleine Angevine
If you're looking for a wine with an impressive history, look no further than Wroxeter Roman Vineyards in Shropshire. Back in 1988, Christine and David Millington chose a site next to the impressive ruins of the Roman settlement of Viriconium, once the fourth largest city in Roman Britain. The nearby Welsh mountains shelter the vineyard from rain, creating favourable conditions for wine production. This elegant white wine has a clean, precise flavour with a floral aroma.
Sharpham Sparkling Elderflower
Sharpham vineyard in Totnes, Devon, combines both traditional and New World techniques to create its popular wines. For something a little bit different, try the estate's sparkling elderflower wine which is an excellent choice for an aperitif. Its citrus flavour is complimented by delicate elderflower notes making it a fresh, thirst-quenching choice for a hot summer's day. Sharpham was in the first wave of producers to revive the English wine movement after the Second World War saw the closure of all commercial vineyards across the country.
Search online to find out where to buy.