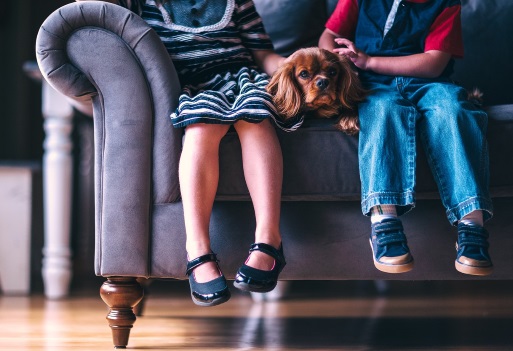 At La-Z-Boy we recognise that a new sofa, armchair or suite can be a significant investment, and everyone knows that quality doesn't come cheap!
When you're buying furniture, you need that reassurance and confidence that your purchase will last. That's why at La-Z-Boy we offer a 10-year limited warranty on all our products as standard.
One of buyers' big worries is making sure that their children and pets don't spoil their new sofa or armchair. As far as animals go, we've already blogged on how to reduce pet damage, but when it comes to kids it's not that easy.
Little people see just as much novelty in new furniture as you do, especially if you opt for one of our recliners.
Wear and tear will always occur with anything you buy, and spillages will happen – but here are a few tips to help you make the right choice of sofa or armchairs, and how to convince the kids to help look after your purchases once they've been delivered.  By looking after your La-Z-Boy products together your family can enjoy them for many years to come.
Picking the right style for you
At La-Z-Boy we spoil you for choice when it comes to our range of leather and fabric swatches. If you've got kids, you may decide it's a safer bet to go for a leather sofa or armchair because it's much easier to wipe clean, and less likely to stain, than a fabric option.
If you're thinking about leather, it's also important to consider what shade. Cleaning and looking after a darker leather is always much easier than trying to clean a lighter shade (just a lidless felt pen can cause disaster!). So if your heart is set on a leather sofa or armchair, it does make sense to opt for a darker option.
But some people simply prefer fabric, and if you are one of these people why not opt for one of our patterned colourways? The patterns can help disguise any marks, should an accident happen, especially if the base colour is a darker shade.
Set boundaries
Once you've made your choice and your sofa or armchair is being delivered, it's important to speak to your children about boundaries.
If, like so many families, your living room has become your dining space in front of the TV, maybe it's time to make a change. This can be a real culture shock for everyone in your household – not just the kids – so it's important that you set down ground rules about where everyone eats meals.
The same goes for craft activities, homework and much more. No-one wants your happy home to turn into a dull and boring place full of rules, but by setting a few boundaries and ground rules you can make sure you are protecting your new furniture from the most avoidable yet inevitable spills and stains.
Make the most of your new furniture as a family
The problem with setting boundaries like this is you risk making your living room a no-go zone – and what's the point in that if you've just bought new La-Z-Boy furniture!
Yet one of the best ways to ensure your new furniture lasts is, strangely, by making more use of it together.
Think about it – by doing more activities together, like watching more TV and enjoying more 'movie nights' on your new sofa or in your new armchairs, the kids are more likely to respect your new furniture and less likely to play on it.
Don't forget that reclining furniture can be a danger to young children, so make sure little ones are always well supervised.
Don't panic!
Finally, remember – if something goes wrong, we're here to help. Along with our 10-year limited warranty, La-Z-Boy also offers dedicated aftersales service so you're always in safe hands should something go wrong.