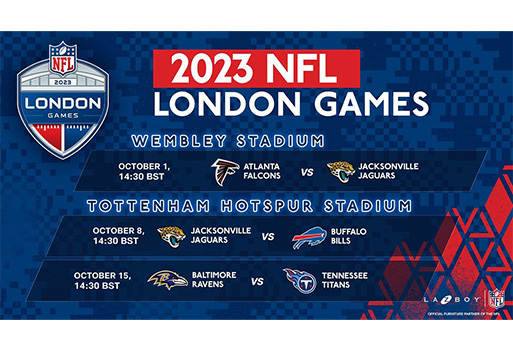 The NFL have announced which teams will be taking part in this year's London Games in October.
Atlanta Falcons, Jacksonville Jaguars, Buffalo Bills, Baltimore Ravens and Tennessee Titans will all be flying over to the UK to play part of their 2023 season in front of a British crowd. La-Z-Boy UK is the official furniture partner of the NFL London Games, having signed a three-year deal with the American football league last year.
NFL London Games starts with the Atlanta Falcons taking on the Jacksonville Jaguars at 2.30pm on Sunday, October 1 at Wembley Stadium.
There will then be two games held at Tottenham Hotspur Stadium, where La-Z-Boy UK will be providing 'the best seats in the house' with a VIP seating area featuring a number of the brand's iconic recliners.
The first of these matches will see the Jacksonville Jaguars play again, this time going head to head with the Buffalo Bills at 2.30pm on Sunday, October 8. Then at 2.30pm on Sunday, October 15, the Baltimore Ravens will play the Tennessee Titans.
Peter O'Reilly, NFL Executive Vice President of Club Business and League Events, said: "We are excited to bring three games to London once again, a city with a huge love for the sport and a passionate fan base across the UK."
The NFL London Games has been running since 2007 with at least one American football game taking place in the capital every year except 2020, when the Covid-19 pandemic interrupted international sporting events.