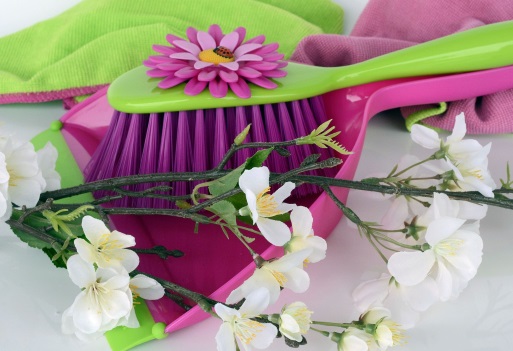 It may not feel quite like it, but officially it's almost the start of spring.  Springtime begins this year on Tuesday, 20 March, so here are a few ideas of how you can spring-clean your living space with minimal effort.
Pull out the stops
Nooks and crannies often get ignored in the regular vacuuming or dusting routine.  The next time you have a spare couple of hours, put on your favourite tunes and pull out all your furniture and ornaments away from the walls to clean up the dust behind them.
Blinds, curtains and radiators can also be havens for dust or pet hair.
Recruiting other family members to help out will get the job done in no time and you'll be amazed how much fresher the room feels when you're finished.
Call in some fresh eyes
We can get used to rooms we see every day and can easily ignore clutter, mess, or things which look out of place. 
Recruit a trusted friend or family member to do some straight talking and ask them what they would change about your living room.  You may be amazed at what a big difference some small suggestions can make.
Sofas need love too
Treat your favourite furniture to some TLC, but be careful what cleaning products you use.  As a general guide, avoid wet cleaning products on fabric sofas.  Brushing with a soft bristle brush, followed by a good vacuum, will help keep colours bright.
For leather sofas, use specialist leather care kits or hide food.  Never use chemical cleaners on leather and beware of anything which can scuff the surface of the hide.
Store it or lose it
Lack of storage is a major cause of untidiness, so invest in some attractive storage ideas to get your living space ship-shape.
Wicker baskets, blanket boxes and wooden or metal chests can all be made into features of a room, as well as giving you a place to hide toys, magazines, spare scatter cushions or other items.
Something as simple as investing in a larger bookshelf or specialist shelving in a corner or alcove can free up space and help your belongings to bring character into the room.
Be creative and have fun while you get to work!