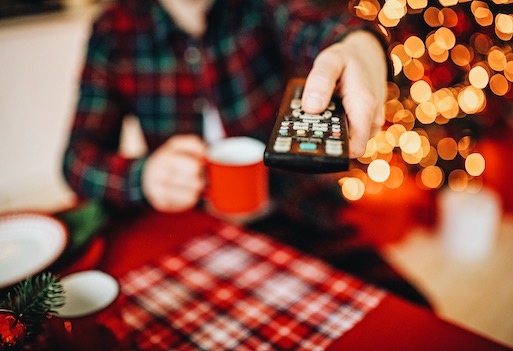 With everyone's Christmas and New Year plans set to be much smaller than usual, the festive TV schedule has never been more important.
Don't worry though as there are plenty of options to keep you entertained over the Christmas period. So get out the snacks, lay back in your La-Z-Boy recliner and relax with the best the small screen has to offer:
Upstart Crow: Lockdown Christmas 1603 – 9pm, Monday, December 21, on BBC2
Celebrating Christmas during a pandemic may be a new and unsettling experience for all of us but the characters of Upstart Crow, Ben Elton's comedy featuring William Shakespeare and his pals, got there first. Living in a plague-hit London, Will, played by David Mitchell, is stuck at home in the fifteenth state-enforced lockdown to hit the capital. Can he use quarantine to write the perfect play for the king or will being stuck at home with only Kate for company leave him struggling for fresh ideas? A sit-com with such close parallels to the current crisis might not be to everyone's taste but it offers to provide some welcome relief during a difficult time.
The Goes Wrong Show: The Nativity – 7pm, Tuesday, December 22, on BBC1
A Christmas-themed version of The Goes Wrong Show, which was itself a spin-off of the hugely successful The Play That Goes Wrong, this is fun festive viewing for all the family. Viewers will see The Cornley Dramatic Society attempt to perform The Nativity with hilarious results, including problems with the stage mechanics, conflict over their new sponsorship deal and a prank involving the Wise Men's trousers.
All Creatures Great and Small – 9pm, Tuesday, December 22 on Channel 5
Fans of the All Creatures Great and Small reboot, which started on Channel 5 earlier this year, will be delighted that although the first series may have ended, they will still get to see their favourite characters in a Christmas special. The episode will take place on Christmas Eve, the day before Helen and Hugh's wedding. Heartbroken country vet James Herriot is holding a Christmas party but a dramatic birth and thick fog gives him the chance to spend some time alone with Helen. Will he tell her how he really feels before it is too late?
Jack & the Beanstalk: After Ever After – 8pm, Wednesday, December 23 on Sky One
Children's author and comedian David Walliams is back on Sky One for another fairytale imagining, which takes place after the traditional happy ever after ending. This time, the focus is on Jack and the Beanstalk and viewers will find out what happens to the hero after he got the better of the giant who lived at the top of the beanstalk. What if the well-known ending to the story wasn't quite what it seemed? The cast includes Sheridan Smith, Blake Harrison and, of course, Walliams himself.
Roald & Beatrix: The Tail of the Curious Mouse – 8.15pm, Christmas Eve on Sky One
This Christmas film brings together two much-loved British authors – Beatrix Potter and Roald Dahl – in an imaginative retelling of a true story. Then a six-year-old child, Dahl's encounter with Potter is credited with inspiring him to write children's books himself. Dawn French plays Potter, who is struggling with failing eyesight and a lack of new ideas, while Dahl is grieving from the death of his father and sister. Adorable animation adds the wow factor, alongside appearances by Rob Brydon, Alison Steadman and Bill Bailey.
Zog and the Flying Doctors – 2.35pm, Christmas Day on BBC1
If you're a family with small children, you're probably already familiar with the popular children's books by Julia Donaldson and Axel Scheffler. Adaptations of their stories by Magic Light Pictures have been a staple of Christmas Day viewing for more than a decade now and the latest offering  - Zog and the Flying Doctors – is a sequel to the more well-known Zog. Narrated by Lenny Henry, the story follows the dragon as he forms a flying doctor crew with a knight and a princess. But Princess Pearl's uncle isn't too keen on her niece's medical ambition and tries to put a stop to their plans.
Call the Midwife, 7.40pm, Christmas Day on BBC1
Christmas wouldn't be Christmas without a trip to Poplar for Call the Midwife. The nostalgic series is now up to 1965 but, as usual, the festivities are far from plain sailing. Filmed with social distancing measures in place, the 90-minute episode still packs a punch with the return of a character, the arrival of a circus and a sudden trip to hospital. As always with Call the Midwife, there promises to be laughter and tears as the midwives welcome new life into the world and tackle unexpected challenges.
The Big New Year's In – 9pm, New Year's Eve on BBC1
As the country prepares to see in the end of 2020 in the comfort of their own homes, the usual TV schedule has had a rejig to reflect the nation's cancelled plans. There will be no firework display at the London Eye this year and for most people, the occasion will be a low-key affair. Paddy McGuinness will be trying to make the best of it by hosting the topically-named Big New Year's In with celebrity guests playing games in a live one hour show, which will include a humorous quiz viewers can join in with from home.
Doctor Who  - 6.45pm, New Year's Day on BBC1
Jodie Whittaker will return to our screens as the Doctor in this 75-minute festive special called Revolution of the Daleks. There are lots of reasons to be excited about this episode as it features some old favourites, including the iconic Daleks and Captain Jack, played by John Barrowman, and picks up where the last series left off. The special seasonal episode begins with the Time Lord still stuck in an alien prison, leaving her friends facing the prospect of saving planet Earth alone.
Taskmaster New Year's Treat – 9pm, New Year's Day on Channel 4
Having made its way from Dave onto Channel 4, this comedy gameshow, which sees celebrities completing a series of bizarre challenges for even stranger prizes, has been given a one-off special to start 2021 with a bang. The New Year episode will star newsreader Krishnan Guru-Murthy, actor John Hannah, TV presenter Rylan Clark-Neal, Strictly judge Shirley Ballas and Nicola Coughlan from Derry Girls. As usual, comedian Greg Davies will be awarding the points, while Alex Horne will be overseeing the tasks themselves.