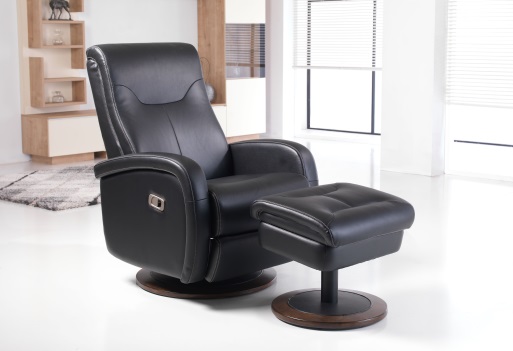 Living spaces are changing, and furniture is changing with it. Gone are the days of the traditional formal living room, as people opt for new styles which are more suited to their homes and lifestyles.
Two sofas and corner sofas are proving popular alternatives to a three piece suite, and many people are quite content with two or more armchairs instead of a sofa. Thankfully at La-Z-Boy we can cater for all requirements and tastes, and it won't take you long to find a style that suits you just by browsing through the range on our website.
One of our key products is our swivel chairs. For some people, a swivel chair wouldn't be their first consideration when buying furniture because it wouldn't ordinarily fit in the traditional living space.
But there are plenty of reasons why a swivel chair could be the perfect fit for you and your home – just not necessarily your living room!
Perfect for home working
A swivel chair is the perfect product for those of us who work from home. Whether you have your own dedicated office room or a study space in the kitchen or a cubby hole, our swivel chairs are great for working at a desk one minute and then turning away to enjoy a screen break or read a document.
Our footstools can also complement this – or even help you create your own home office if you're short on space – because many of our footstool models can be flipped to provide a laptop side table.
Adapting your living room
Think about your current layout - did your furniture face the room, or did it face the TV? The answer is probably both. But the way our living rooms are configured these days means the TV often takes less prominence than it did before.
The great thing about our swivel chairs is that they're great for 'switching the attention' from family conversations and chatter to focusing on the TV when you want to watch the box.
Watching Sport or Gaming
Like our reclining armchairs, our swivel recliners are perfect for those who like to watch sports in their living spaces or dens – just lie back and enjoy the action.
At the same time, if you or your family have games consoles in your living room but don't want a gaming chair which would be out-of-keeping with the rest of your furniture, our swivel recliners are a great and classy alternative.
Conservatory or orangery cool
Our swivel recliners are perfect for your conservatory or orangery, so you can recline in comfort in the summer (or winter!) months.
And if your living room leads directly into your conservatory or orangery, our swivel recliners could even complement your current furniture too.
Limited mobility? We can help!
At La-Z-Boy we find that our swivel recliners can be really popular with people who have limited mobility.
They provide a comfortable sit which can be adapted to the individual, and offer much more support than a static chair or soft cushioned chair.
If you've never considered a swivel chair before, we hope we've given you plenty of food for thought.
Find out more about our swivel chair range.